1.NYC (BEST BUDGET NAIL POLISH)
WHY PEOPLE LOVE IT
Price tag under $2
Lasts longer than one would expect for a budget nail polish
Quick drying
Pros:
While this budget polish is primarily advertised for its ability to dry quickly, we cannot get over how long the polish stays put without chipping. Add to that the amazing price and trendy range of colors and you've got yourself quite a deal!
Cons:
Unfortunately this polish is not super pigmented, so it may take several coats to reach your desired color.
EXPERT RATINGS
FEATURES 9.5 / 10
In addition to being budget friendly and long lasting, this polish dries in a New York minute (and we can attest to that). It goes on smooth and lasts for days. Oh, and you can buy it for under $2. Who doesn't love that?
We have to give an honorable mention to Wet and Wild Megalast Nail Color as a close second for the best budget nail polish. While it comes in an adorable bottle and features a square brush for easy application, we found this polish to be a bit goopy taking way too long to dry–which is why we ultimately went with NYC as the best budget option.
SHADES 9.5 / 10
A lot–over 100 to be exact! We were also surprised by how much we loved the range of colors, expect fashion-forward shades that you would see in the most expensive of nail polish lines. Personally, we're big fans of Park Avenue and Full Metal Jacket, but regardless of what you're looking for NYC offers something for everyone.
LONG LASTING 9.5 / 10
Lasts for days without chipping, even through constant hand washing.
VALUE 9.5 /10
Unreal! Pick up a bottle (or 10) at your local CVS or Walgreens for under $2!
OVERALL EDITOR SCORE 9.5 / 10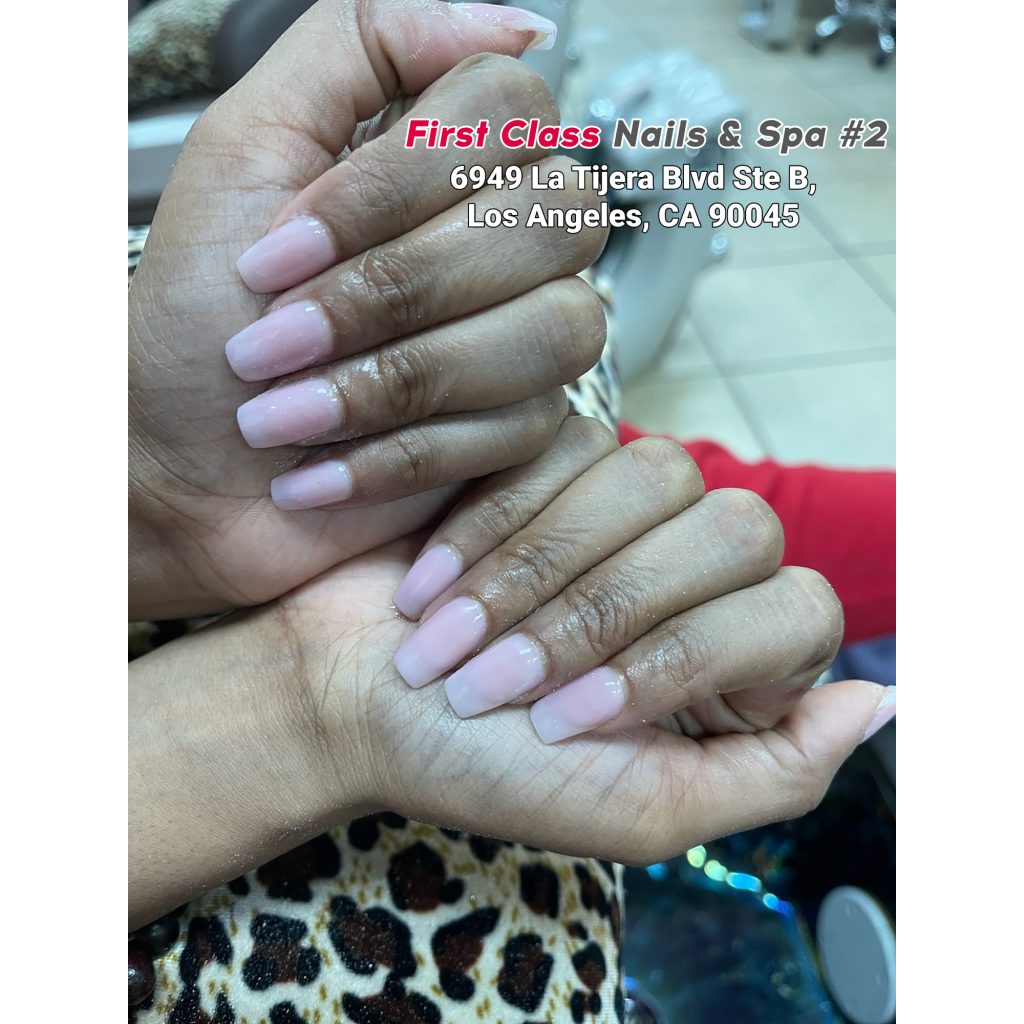 Pink nail design by First Class Nails & Spa #2 in Los Angeles CA
2.Red Carpet Manicure Color Dip Nail Kit (BEST MANICURE COLOR DIP)
WHY PEOPLE LOVE IT
21 shades to choose from
Easy to apply
Gentle and non-suffocating on nails
PROS:
Now, if you're a nail polish newbie, this may not be the option for you. However, if you're interested in stepping outside of your nail enamel comfort zone we highly recommend this dip kit.
CONS:
A bit overwhelming and may take some time to get the hang of.
EXPERT RATINGS
FEATURES 9.0 / 10
So what's included in this kit? To put it short, a lot. You will receive a brush restorer, top coat, activator, base coat, and nail powder. As complicated as it seems, this kit is actually really easy to use and will produce intense, vibrant colors with every application.
SHADES 9.0 / 10
Although the kit only comes with one color, there are a wide range of flawless colors available.
LONG LASTING 9.5 / 10
If you do it right, a dip manicure could last for up to 21 days (wow!).
VALUE 9.5 / 10
Don't let the price intimidate you while it is the most expensive product on our list you get a lot of bang for your buck. If you're up for the challenge, we highly recommend giving this product a try.
OVERALL EDITOR SCORE 9.3 / 10
A visit to a local nail lounge or an appointment with your go-to nail tech will beautify both your fingernails and toenails. When your nails are newly painted, they need a lot of time to completely dry. Weekday routines might not allow your new manicured nails to be given enough drying time. So, people usually choose to get their nails designed on weekends. Not only will they have time to dry the new nails completely, but also they can freely take photos of their beautiful nails, retouch these photos, and post them on Instagram. No need to rush!
Everyone deserves to be pampered in a modern serene atmosphere. In our stylish, clean and relaxing setting, you are treated to the highest quality services and products you can trust. First Class Nails & Spa #2 | Nail salon in Los Angeles, CA 90045 is one of best places in the city of Los Angeles to receive spa treatments, massages, nail art designs, and more at value prices!
Relaxing, pampering, or just for the fun of it — First Class Nails & Spa #2 | Nail salon 90045 has day spa packages for every taste and desire. WE BELIEVE THAT QUALITY DOES NOT NEED TO BE EXPENSIVE, JUST EXPECTED!