Manicure
Want a classic manicure that's on point? Maybe a fun pedicure that's off the wall? We are your place. At this nail salon in Greensboro NC 27408, we offer a full menu of beauty services for ladies and gents to get your hands and feet looking their best — and you feeling your best, too.
We are very proud to offer professional spa services including manicures and pedicures for both Men and Women. Who said a man cannot have his own spa day?
Healthy hands are what we do. If you want to shape, shine, polish, pamper — or simply relax — our specialists are ready to put their nail smarts to work for you. Your hands will feel and look amazing. And, trust us, people will notice.
Spend a little "me time" with one of our top nail technicians and enjoy a little conversation or a little quiet as you are pampered with your choice of all the latest techniques and color trends. Relax and enjoy the massage included with every manicure. Choose from literally hundreds of colors! You will feel fantastic as your nails are shaped, buffed, and coloured to perfection. And with our affordable prices and membership options, it's easy to fit regular nail care services into your budget.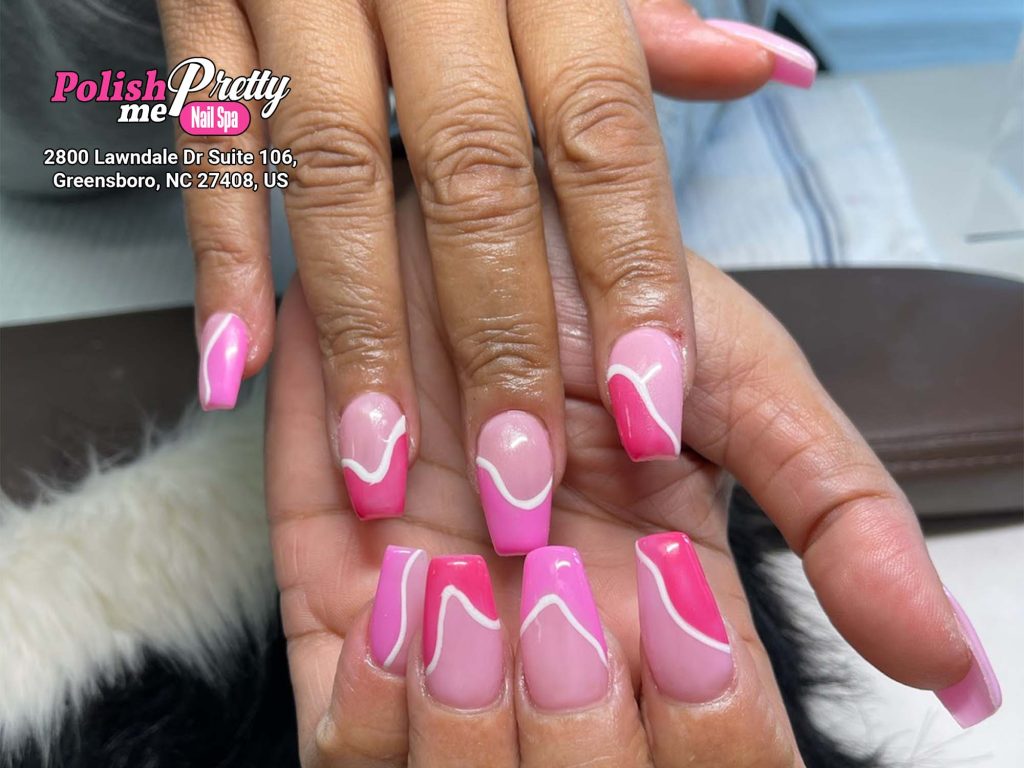 Highly recommended POLISH ME PRETTY NAIL SPA – Nail salon Greensboro NC – Nail salon 27408
How Do You Want Your Nails To Look?
If you're wanting a nail design, then gel will be your best option. Gel is most similar to classic nail polish, but with more longevity, so nail art will look much more glossy and professional.
Dip nails tend to be thicker and therefore will be better suited to ombre nail effects or classic block colors.
Acrylic nails are great if you want to try a less opaque design, with see-through sections or lighter colours. Acrylics are extensions as opposed to the natural nail, so can endure much more experiment without damaging your natural nails.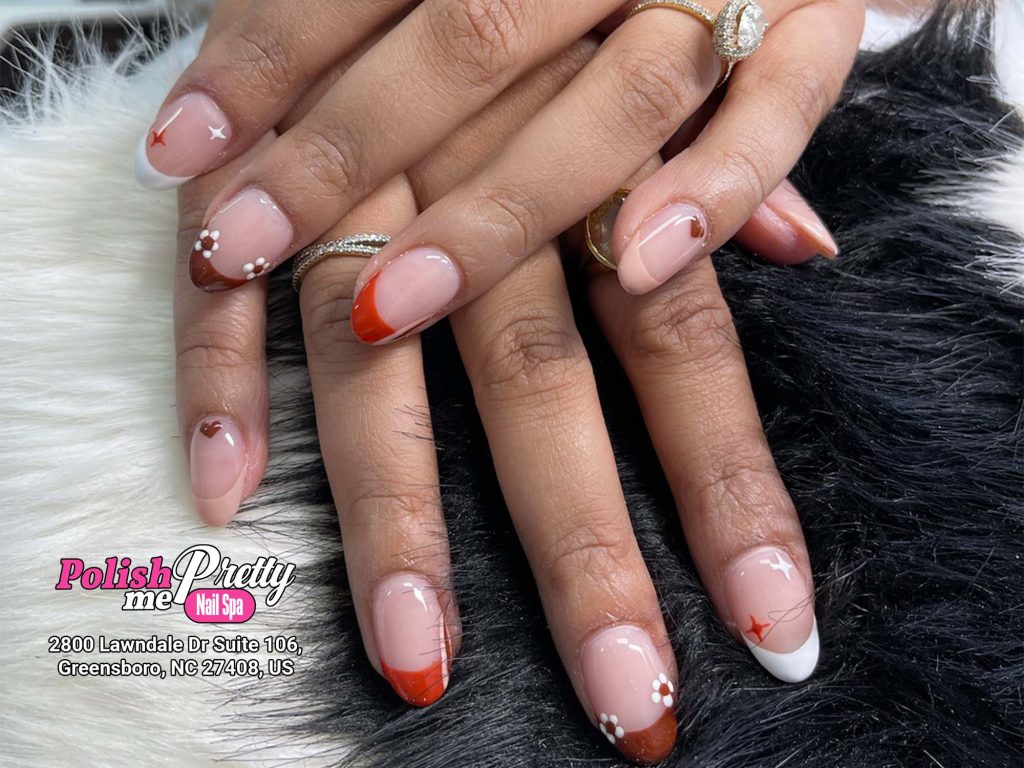 Pedicure
PRETTY FEET ARE MADE HERE. The best looking feet have the best possible care. Our pedicures will give your hard working feet the special attention they deserve, and the beautiful results you desire.
We have created what we believe to be the most luxurious pedicure in all of Greensboro! Complete with ultra-luxurious massage spa chairs, our private pedicure spa offers a pampering retreat from the stresses of the day.
If you are getting a pedicure, try not to shave your legs 24 hours prior to the service. This reduces your chance of infection from a dirty tool or item used during your service. If you have cuts, blisters or other injuries prior to getting services, you may want to reschedule your visit with Polish Me Pretty Nail Spa in Greensboro
What is manicure – pedicure service?
A manicure or pedicure is a service that keeps the nails and skin of the hands and feet in healthy condition. This may mean smoothing calloused skin on your feet, as well as maintaining the cuticles of your hands. Adding proper oils and shaping nails helps keep them strong. Services also include a light massage or gentle muscle stretching that accompanies manicures and pedicures.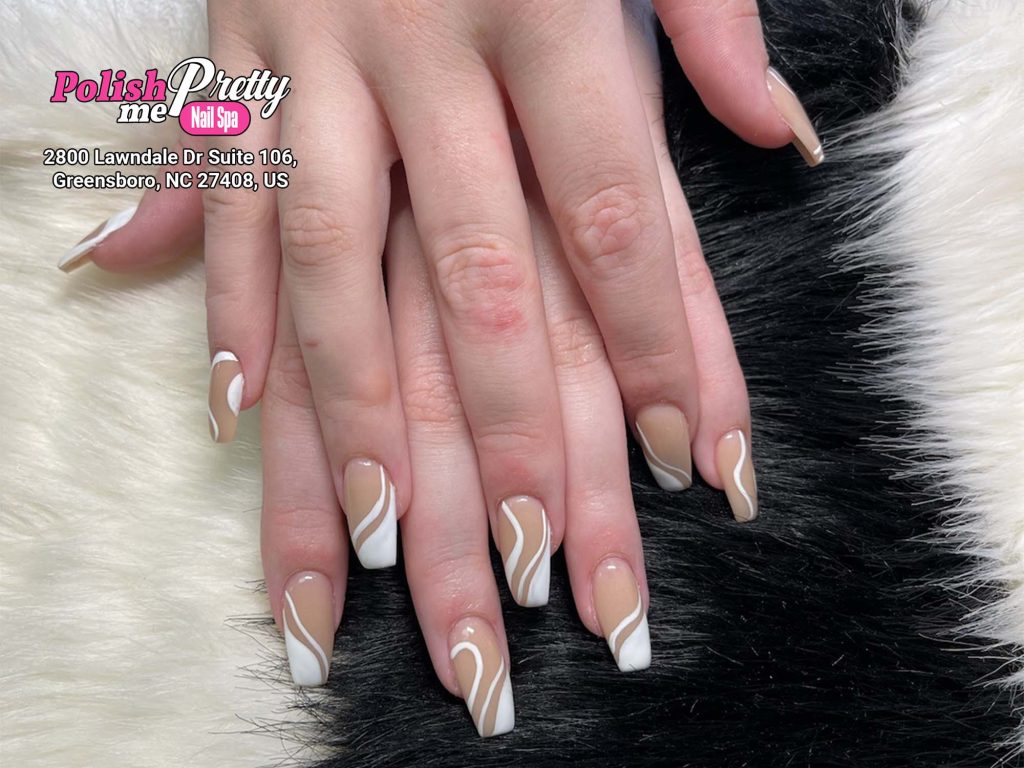 Polish Me Pretty Nail Spa | What are the benefits of manicures – pedicures?
Regular pedicures can help promote healthy circulation in hands and feet. Another added benefit of the manicures and pedicures is to prevent nail diseases. Professional nail technicians can spot potential nail and skin problems before they become big problems.
Manicures and pedicures also help to alleviate stress. Relieving stress can promote good mental and physical health. There are many studies that suggest that lowering stress may help aid in memory, digestive and heart health. Manicure and pedicure services can be quite affordable. Regular maintenance of your hands and feet is well worth the cost.
POLISH ME PRETTY NAIL SPA
Address:2800 Lawndale Dr Suite 106,
Greensboro, NC 27408
Phone:336-265-8090
Email:tonyhuynhlaw@gmail.com